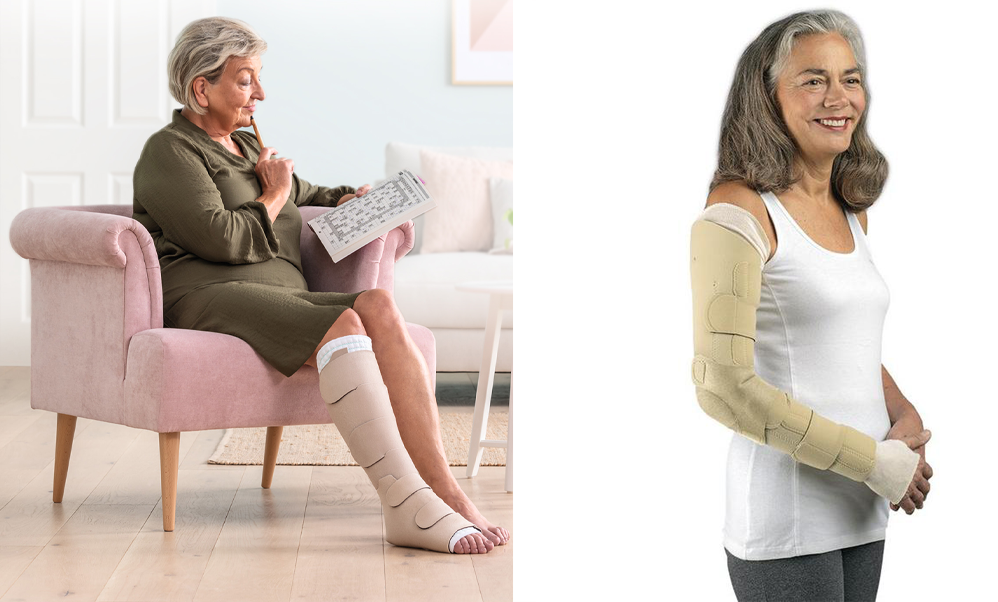 Medical Compression "In Elastic" Support
Many patients can use these garments in place of bandage wrapping.
Inelastic compression garments is the opposite of elastic compression in that the products do not stretch when circumference changes occur as the result of body movement. So what occurs when the body is in movement is that the actual compression level under inelastic compression will rise and fall, thus creating a dynamic compression system.
This change in compression with inelastic compression has been demonstrated to have dramatic effects in improved venous hemodynamics and edema reduction. Inelastic compression is achieved with Unnas boot bandages, short-stretch bandages, multi-layer bandages as well as with inelastic adjustable wraps.
While bandage systems do provide a dynamic compression effect their main drawback is that they do not adjust with reductions in the limb size and as such over the course of wear the compression level drops. This requires that the bandages be removed and reapplied quite often to maintain adequate compression for the treatment. They are designed for durability and ease of use to allow patients to lead independent lives.
Listed Below are some of the most popular in the In Elastic Compression Products and the different companies that supply that product.
Many of these products come in a variety of sizes, colors, fabric and additional options including custom garments.