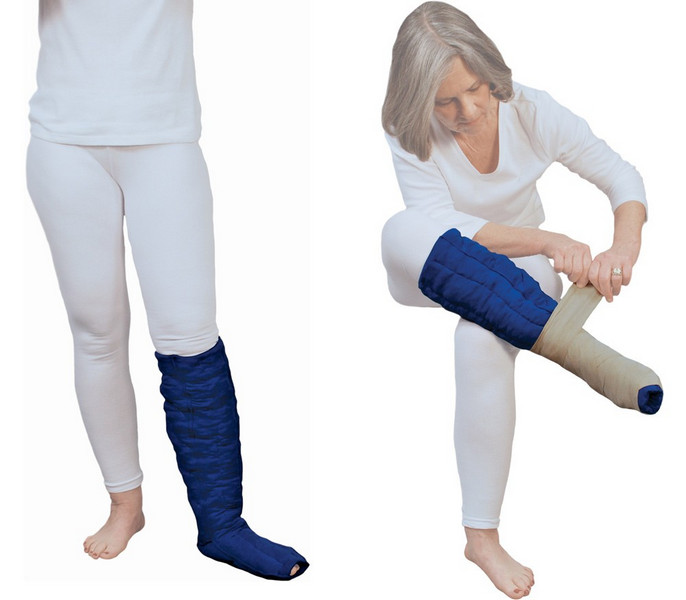 Foam-Lined and Padded Compression
These garments are directional flow, custom- made and off-the-shelf, therapeutic, nightwear, Wrap/Garment(s)for the treatment of lymphedema and chronic swelling with indurate tissue. Impairment of the lymphatic system has significantly reduced the normal capacity of the lymphatic system to provide tissue drainage necessary to ensure tissue health, to support normal immune response, and maintain fluid balance of the circulatory system in the affected quadrant. These garments that will maintain gains made in therapy and continue to provide therapeutic intervention in the home setting.
Patients with chronic swelling wear the garments nightly to address tissue fibrosis and facilitate interstitial fluid movement.
Listed Below are some of the most popular Non Elastic Compression Products and the different companies that supply that product.


Specialty lymphedema garments bring enhanced compression technology to the aid of patients with primary and secondary lymphedema.
Designed to improve upon multi-layer wraps that are conventionally prescribed as part of a normal course of manual lymph drainage, these products have demonstrated significant improvement due to their comfort and ease of use.
Generally designed as a two-part system, these products are composed of an inner compression pad and an external compression binder. The inner component is a form filled pad or form insert tailored in the shape of the affected extremity, gently sliding over it snugly. The outer binder adds controlled compression and can take the form of short stretch bandaging or an outer appliance with adjustable Velcro closures.
Specialty lymphedema garments are an excellent option for patients who utilize multi-layer bandaging as a component of their therapy. While the conventional bandages and wraps can be very useful, they do have limitations. Most importantly, bandages and wraps are often difficult to apply properly and consistently, and if not applied correctly, they can obstruct lymphatic flow.
These garments come in FOOT, LEGS, CHEST, TRUNK, ARM, GLOVE, GAUNTLET AND MORE COMBINATIONS.
The garments come in ready made or custom.



Specialty compression breast and chest wall pads are filled with a low ILD foam to protect tender or compromised tissue in the breast and chest areas. Some of the pads are designed to replace "chip bags" used by therapists during treatment.
Many of these products come in a variety of sizes, colors, fabric and additional options including custom garments.